Creating Motion Graphics with After Effects CS3: Essential and Advanced
» ::Bookpool Discount Computer Books :: Welcome!
» Bookpool: Creating Motion Graphics with After Effects, 4th Edition
» CyberMotion — Motion Graphics Design
*********************************************************

Chris & Trish MeyerTrish and Chris Meyer share fifteen years of real-world film and video production experience inside the critically acclaimed Creating Motion Graphics with After Effects. More than a step-by-step review of the features in After Effects, you will learn how the program thinks so that you can realize your own visions more quickly and efficiently. This full-color book is jammed full of tips, gotchas, and sage advice that will help you survive whatever your next project throws at you.
Creating Motion Graphics 4th Edition has been heavily revised, reuniting the previous two volumes plus adding detailed coverage of new features introduced in After Effects 7 and CS3 Professional to form one massive, essential reference. The enclosed DVD-ROM contains source footage and project files for the numerous exercises which help reinforce each concept. The DVD also includes over 180 pages of additional information, including lengthy Bonus Chapters on Expressions and Effects.
*********************************************************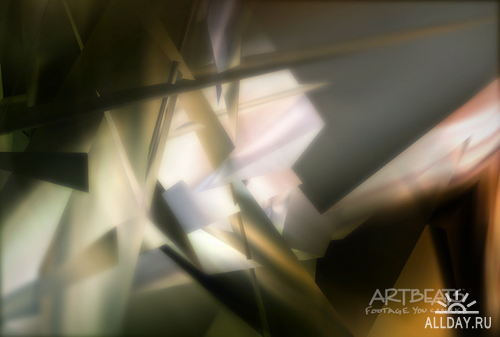 *********************************************************
Features
• Mastering animation through the use of keyframes, motion paths, and the Graph Editor
• Blending imagery using alpha channels, masks, mattes, modes, and stencils
• Building groups and hierarchies through parenting and nested comps
• Extended coverage of type animation, paint tools and 3D space
• Advanced subjects such as keying, motion tracking, expressions, and video issues
• Includes over 180 PDF pages of bonus content on the DVD
• Extensive coverage of the new CS3 features including the Shape and Puppet tools, Brainstorm, per-character 3D text, color management, and more!
Contents
Creating a Composition
Basic Animation
The Anchor Point
Advanced Animation
The Layer Essentials
Trimming
Motion Blur
Blending Modes
All About Masking
All About Track Mattes
Stencils and the 'T'
3D Space
Cameras
Lighting in 3D
Parenting Skills
Nesting Compositions
Precomposing
Collapsing Transformations
Textacy
Applying and Using Effects
Effects Roundup
Compound Effects
Presets & Variations
Color Management
Keying
Frame Rate Manipulation
Motion Stabilization
Motion Tracking
Paint and Clone
Vector Paint
Working with Audio
Express Yourself
Import and Interpret
Integration 101
Integration with 3D Applications
Video Issues
Rendering Queue
Advanced Rendering
Prerendering and Proxies
*********************************************************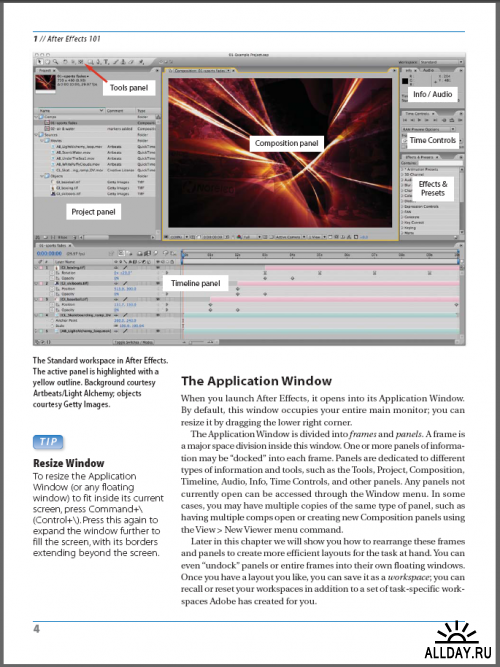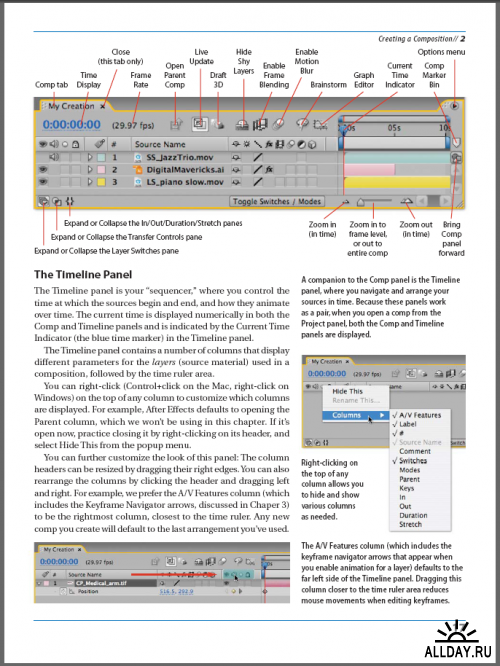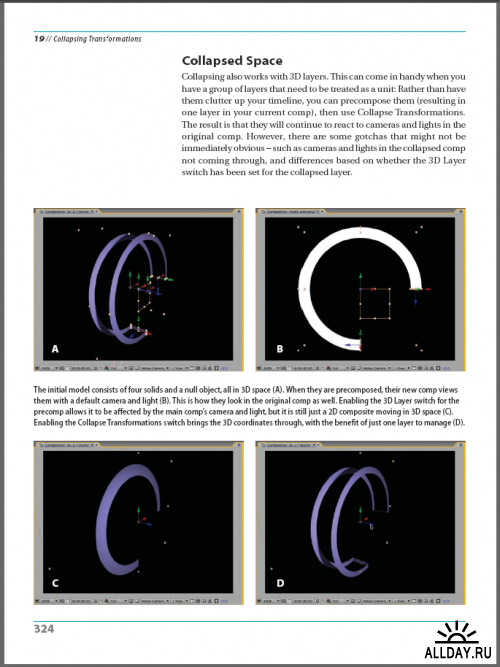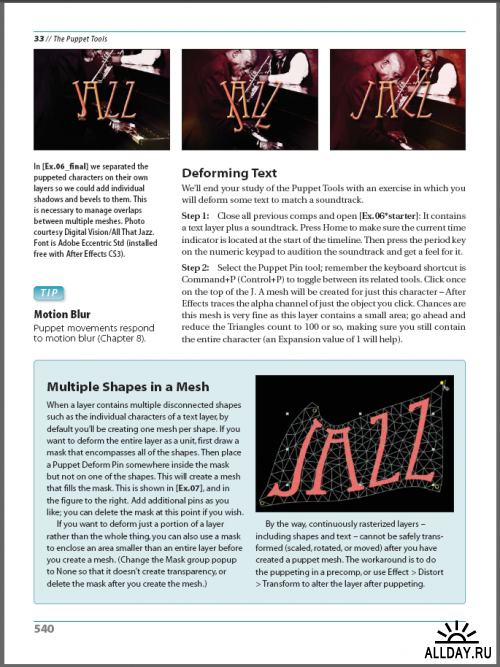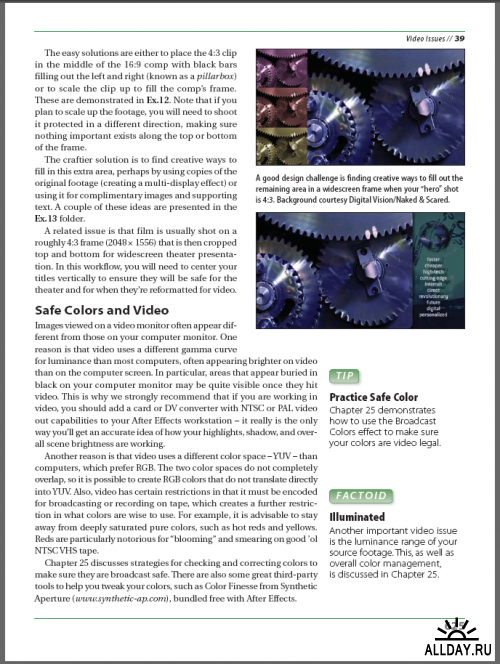 *********************************************************
REUPLOAD































*********************************************************
Размер: 3.75 Gb [UnRar 4.05 Gb]
*********************************************************
Пароль/Password: St
File: re_cmgwithaecs3eandadvdvd_f.part01.rar
Size: 524288000 bytes
MD5: C32154941164860244DABAD0034133BD
SHA1: F5E12AB9B2D4448EB0B80A49F3EFB702A6047998
CRC32: E1B18585
File: re_cmgwithaecs3eandadvdvd_f.part02.rar
Size: 524288000 bytes
MD5: 7041A39DDB6F6EF35AC0083DD8734055
SHA1: FD77683A47E6997D38A035EB0E9170635176EC88
CRC32: 407E171F
File: re_cmgwithaecs3eandadvdvd_f.part03.rar
Size: 524288000 bytes
MD5: F6510C4D6858C5029AFEA6BB3CC88075
SHA1: E4F9658A21CCFB73069EB738CF54B5C1ED2CC4FB
CRC32: 38BCE02F
File: re_cmgwithaecs3eandadvdvd_f.part04.rar
Size: 524288000 bytes
MD5: BEC4D5398C54DAF830354BB023C672E0
SHA1: B4A7D0F0714ABE67F4BCA0272C747BE6CCB400EA
CRC32: 7C92A074
File: re_cmgwithaecs3eandadvdvd_f.part05.rar
Size: 524288000 bytes
MD5: BFA6B7811932958C2C2F228536F15CA5
SHA1: 3558D0CE9D8ED1EB1A7415663CC63D152AF724F4
CRC32: ABE9CFB9
File: re_cmgwithaecs3eandadvdvd_f.part06.rar
Size: 524288000 bytes
MD5: 621D7D9BC118D56A05B9142EF97B972B
SHA1: 4883043A60D79296CE918224E535A445DE6FCC56
CRC32: E023C161
File: re_cmgwithaecs3eandadvdvd_f.part07.rar
Size: 524288000 bytes
MD5: 9FE604B1C7176CDA47645DD95B83657E
SHA1: 137F854314182E21AAF1E583349535EFE27ACEE3
CRC32: FA338A27
File: re_cmgwithaecs3eandadvdvd_f.part08.rar
Size: 360497084 bytes
MD5: EE72143AB006D58293DBD83204B74231
SHA1: 4146EE213721A21FE560C3896098155D22EE25BB
CRC32: 554EAB20